It's not often we get a chance to compare two videos purporting to do the same thing for the same business, but thanks to my friend Andy Goodman, we can.  Andy publishes a great bloggy-kind-of-newsletter for non-profits, and has kindly given me permission to steal some of this month's cover story.
Lifelines for Youth is a non-profit that helps formerly-incarcerated youth. Naturally they are interested, as are all non-profits, in raising money.  They commissioned a video to help.  When it didn't help enough, they commissioned another one.
Take a look at the videos below– you only need about 30 seconds of each.  Here's the game:  Figure out which video worked better, and why:
Same kids, same need. Yet one pulls you right in, one makes your eyes glaze right over.  As I hope you've guessed, video 2 worked better.  It helped Lifelines for Youth meet its annual fundraising goal in just four months.  (Note to marketers:  Show these videos to the next person in your company who says that video is a commodity, and anyone can do it.)
The secret to video 2's success?  Intrigue.
The first video lays out a simple problem in a linear fashion.  These kids are in trouble.  It starts delivering facts from the very first second, with all the emotional heft of a do-it-yourself tutorial.
In the second video we have no idea what's going on for the first 3o seconds.  It's all questions: Whose voice are we hearing?  What does the reading mean? Why are these people smiling?  What about those tattoos?  Rather than being confused, we're intrigued.  We're propelled forward through the video by the spoken word and we pay rapt attention– because we want the answers.
There are other reasons this video works, of course.  Andy has more background on the hows and whys of developing it here.  But if you remember only one lesson from this great piece, let it be this:  To get people involved in your video, don't give answers.  Raise questions.
Intrigue us.
Video 2 was produced by The Department of Expansion.  Judging from their website, the quality of this video was not an accident.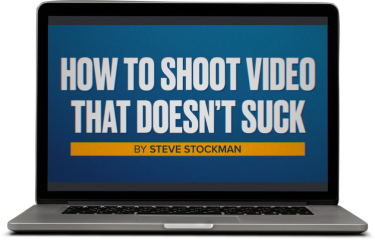 Get a free preview of the new video course!
Enter your email and be the first to get a free lesson of our new video course for How To Shoot Video That Doesn't Suck