Hey Steve,

Do you have any insights on marketing for production services?

I am struggling with approaching people saying "Hey this is what we do, we are awesome at it, let's work together."  I don't want to push things on people, I want people to come to us for what we do, what we can offer and how we do it.

We have been very lucky in our first year that we haven't have to do ANY marketing, but we are at a point where we should be bringing in more sales!

Jesse
The dream of any artist is to be recognized for her brilliance, sought after by all, and hired only by a select few with the millions of dollars and requisite good taste that are her due.  The truth, however, is that all artists who want to make a living over time have to work hard for it.  Every single one.
At the same time, most artists don't like to be pushy. A dilemma, to be sure.  But instead of thinking of marketing as foisting yourself on unwitting victims, think of it as helping people who need what you do.  Now it doesn't seem as bad, right?
If you've been supporting yourself for a year as a video producer (congratulations, btw, a major accomplishment!) I assume you've assembled a great portfolio that anyone interested in your work will be excited about.  If you haven't, you must.
Once you have a killer reel, the simplest way to market your video production business is this: identify your best customers, then try to find more people just like them.
Here's the step-by-step.  Start up a blank screen and let's do some brainstorming:
1)  Think about all your favorite customers— the ones you love, and who love you.  Who are cream of the crop?  Make as detailed a list as you can about everything you know about them:  What businesses are they in? What are they like as people? What did they love about you?  Age/sex/geographic location?  Their business or way of looking at the world?
2)  What do they have in common?  Mark all their themes and commonalities so that you have a clear description of who they are– your "ideal customer profile."  Now you can recognize a great customer when you see one.  And you might have some clues about how to attract them.
3) Once you have an "ideal customer profile" what message or story will excite them– will make them recognize you as a potential partner of value?
4)  Put your skills to work.  Do a kickass video about yourself as seen through that filter.  Your reel might be enough, but why not create a custom 2 minute piece that will make your ideal customer salivate to work with you? It's easier to pass around, and it's all about your potential customer's needs instead of your other customers' video.
5)  Get the video to them.  In what ways– using your many marketing and web skills and brainstorming and hiring help if you need it–  might you get as many as possible of your ideal types to watch your video?  Be creative. (And don't forget to just ask your ideal customers to help pass the video around!)
By getting the exact right message to the exact right people in a way that demonstrates your skills, you should be able to attract more of them.
Do you have a question about video?  Of course you do.  I think you should ask it.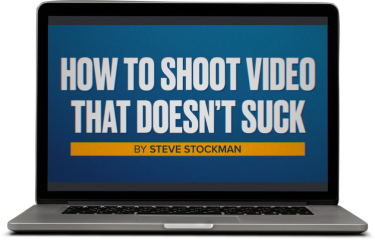 Get a free preview of the new video course!
Sample two lessons from our new video course free right now. No signup or credit card required!