I heard you on Lex and Terry and thought I'd check out your site. I just bought an HD camcorder and will be editing a 5 minute, short film. What editing software do you suggest?

–Anthony Abbate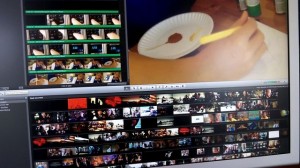 There are two kinds of people in the world, Anthony.  The ones who LOVE to sit at their computer and edit video, and the ones who don't.
Me?  I haven't edited my wedding video from 20 years ago.  Relatives still ask about it, and I still tell them I'll be getting to it soon.  (Yes, editing IS part of a director's job, but fortunately for me it's the part where you tell someone else they're doing great and would they mind trimming that clip by three frames? And not the part where you actually do the work.)
For most people, the best editing software is the one that you can download free or comes with your computer. Remember that editing video is functionally the same as editing a document.  The basics are cut, copy and paste. You're going to:
Output your video from your camera to your hard drive
Cut the technically bad and boring parts out
Maybe copy or paste a couple of things into a different part of the video, maybe not.
Output as a digital movie to share.
Any free video editing software can do that.
If you use your free software enough so that you either a) get good at it or b) start to realize its limitations –then you're ready to step up. At that point my advice is the same as it is for cameras— you're going to have to try them and see what suits your style and interests.
As with cameras, ignore the marketing bells and whistles when you buy video editing software– the silly wipes and swirling dissolves, the sepia color and mirror-mode are all there to attract buyers.  There's a reason you've never seen a Marvel movie shot entirely in sepia.  It's stupid.  Just focus on an easy to use, intuitive interface that you can afford.
Have you heard the new audio version of How to Shoot Video that Doesn't Suck?  You can sample it, buy it, or get it free here.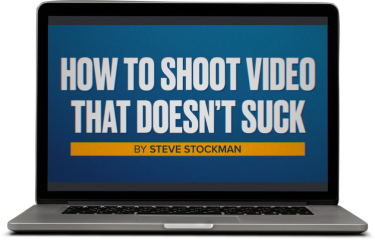 Get a free preview of the new video course!
Sample two lessons from our new video course free right now. No signup or credit card required!