I got your book for Christmas and I LOVE it !! :)  I'm 15 years old and this coming summer I am gonna be shooting my first HUGE movie!! (I have made many movies before but never one so planned and big)

So I made a huge mistake: I told my best friend that all her cousins could be in the movie as actors!! Problem is some I have never even met and the ones I have met I have no clue if they can act!! So my question is what to do now? What if they can't act?? I cant just force them out, but I don't want my movie to suck because no one can act!!

Thanks for the advice. And I will not make that mistake ever again!! I am a girl and I have always wanted to be a director! :) btw!! lol

–Brooke
You say "I can't just force them out", but if that's what the film requires, you can.  In fact, you have to.  If the film sucks because you picked bad actors, nobody is going to watch it.  Including your lousy actors, who will be so embarrassed by their performances that they will hate you more than they would have if you had cut them.
Pros know this, which is why the metaphorical cutting room floor is littered with the bodies of actors completely cut from films.  I deleted a character from Two Weeks in the edit room.  Eric Stoltz was famously fired after shooting on Back to the Future began, and was replaced by Michael J. Fox (wikipedia the story, then see the film if you haven't).  And in news from your actual lifetime, Spike Jonze canned Samantha Morton as the lead voice in his movie Her (see it!), and gave the gig to Scarlett Johansson.  All hard choices to make for their directors.  All of whom did the right thing for the film.
But I think you know this, or you wouldn't have asked for help. And here it is:  Your help is called an audition.
Let your friend know that you can give everyone a role in the film but you have to find the right role for them.  After all, you want them to look great, right? People who are miscast look awkward, even pros.
Invite them to audition — to read a scene with you. In person is best, but video conference works.  Some won't want to bother.  That makes the decision easy– they're out.  Some will suck, in which case the right place will be a silent role in the back, filling a seat in a restaurant while you shoot your leads in the foreground.  The good ones get the parts you choose for them.
One final thing, Brooke.  You want to direct.  That's a good thing.  When you put "LOL" after that statement, you seem to be belittling yourself and your choice.  If you want to be a director, own it. Be definite.  The Director's job is to make choices, and the first choice is to have the balls to be a director.  You do, so stand behind that choice without apology.
Good luck!
Did you know the audio version of How to Shoot Video that Doesn't Suck is out now?  Here's how to get a listen for free!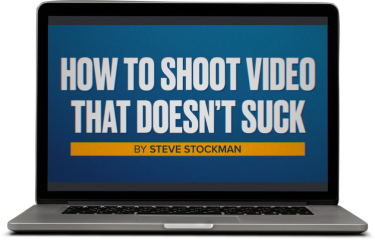 Get a free preview of the new video course!
Sample two lessons from our new video course free right now. No signup or credit card required!