The web accelerates cultural trends.  Movies took almost 30 years to transition entirely to color.  TV took about 5 to go from black & white to color, and more recently took 6 years to transition to HD.  Web video was born in color, and HD is the norm now.
If you did business videos a few years back, you need to upgrade.  It would be nice to imagine that the videos you created for next to nothing a couple of years ago will continue to work.  But they won't, for the same reason that most 1980s TV shows and 1940s movies aren't worth a lot today.  They look slow.  They look old fashioned.  The technology and quality revolution have passed them by.
Your business may just be waking up to its need for video on the web, but you have to join the curve where it is now.  You'll need good technology and good storytelling. Lame informational web video is DOA.
The question businesses should be asking themselves is not "what's my ROI on higher quality videos?"  It's "Will anyone watch them if I don't upgrade? And what will it cost me if they don't?"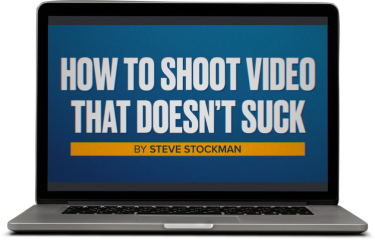 Get a free preview of the new video course!
Enter your email and be the first to get a free lesson of our new video course for How To Shoot Video That Doesn't Suck