I'm wondering about demo reels. I've worked professionally as a producer (public affairs) for a local TV station, but after re-educating myself in a night program at Emerson College, I want to go off on my own. One of my tasks is coming up with a great sizzle reel.

Any thoughts on structure, contents, or style?

–Fred Pagano

PS:  I bought your book last week at Barnes & Noble. It's not an exaggeration to say that I devoured it, and I'm still rereading sections over and over again. Problem is, I tend to read it before bed and it keeps me awake!
Great question, Fred. And nice job sucking up so I'd pick your question to answer. Let that be a lesson to all of you.
Like other arts, video is a portfolio business. In order to judge whether you're worthy of being hired, people will want to see what you've done before.
Which makes sense– why should I give you $10 million dollars to shoot a movie if your only demonstrated experience is shooting a cute video of your cat getting his head stuck in a tall glass while trying to drink water? Even if you got 56,000,000 views.
I can tell you what I might do on my demo reels, but since my idea of great  structure, content and style is probably different from yours, that's not going to be very helpful. The answers to your questions have to come from you. Here are some things you can think about as you figure it out:
1)  Show only what you do well and love to do.  Chasing trends in video or any other art is a ridiculous waste of time.  Be yourself on your reel.  That way you'll attract those who like what you do, are likely to enjoy working with you, and likely to be repeat customers.
2)  Use this as an excuse to shoot some more great stuff.  Do you have a dream short video you haven't gotten around to doing?  Now you have to for your reel.  Call in whatever favors you need from friends to shoot it on whatever camera you have.  Look at Vimeo for inspiration– tons of great stuff from all levels of talent shooting on anything that records video.
3)  Show only your best work.  Not sure it it's your best work?  Just cut it.  What you don't show can't hurt you.
4)  Don't make people guess what you're interested in: If you want to do music videos, put music videos on your reel.  Not everyone has the imagination to see how your political doc on Occupy Wall Street will make you a brilliant rap video director.
5) Keep your reel short.  Pity the person who's job is to watch awful reel after awful reel hoping to find a genius.  Fresh, exciting and short will get them every time.  If they're still undecided, they can always ask for a link to your latest long-form thing.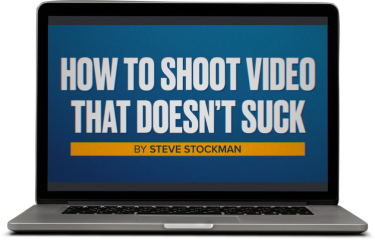 Get a free preview of the new video course!
Sample two lessons from our new video course free right now. No signup or credit card required!