Hopefully your Thanksgiving gathering will be near-normal this year– at least from a Covid perspective (I mean, whose family is normal?) — and that means you'll need these five tips to make your Thanksgiving video kick butt.
Bad Thanksgiving video can be hell to sit through.  Mom hiding her face to keep from being seen when she's messy after cooking all day.  Ten minute shots of the steaming turkey, as if this one looks different.  Loud dinner cross-conversations that are impossible to hear, let alone follow.
Why not make this the year you shoot GREAT Thanksgiving video with these 5 easy tips:
1. Shoot Short Shots: Dad's carving the turkey for the 30th year in a row.  Do we need to capture all 8 minutes of the dissection process?  Is this a rhetorical question?  Try this:  Start when he stands up, catch that first slice of breast meat and move on.  Think of your shots as still photos you hold for a little longer– point, roll video, stop.  Find something else interesting and do it all over again.  The big payoff:  If you keep your shots to 10 seconds or less they'll all be interesting– and your entire video will end up a watchable 5 minutes long.
2.  Faces make memories: That big wide shot down the table of all 20 people at your holiday table is worth shooting– for about 5 seconds.  But once we know where we are, get close to your family.  If the goal of home video is to preserve memories of people we care about, faces are key.  Nobody– not you, not your parents, not your kids– will have the same face 5 years from now.  Capture people the way they really are– let us see them close up.
3.  Zoom with your feet. Don't shoot from across the room.  Zoom lenses make your picture shaky, and distance you from what's going on. Instead, turn off the zoom and move yourself closer to the action.  You'll get better sound, too—the camera's microphone doesn't zoom.  Bonus tip:  when you're closer to people, try asking them questions and see what happens.
4.  Try for Details: While faces are the biggest draw in a Thanksgiving video, there's a lot to be learned from details.  Quick shots of two people talking intimately.  Someone spooning yams onto a plate.  A closeup of Aunt Elaine's hands rolling dough or Uncle Larry passed out in front of the TV.  These aren't long shots– think of them, again, as stills– but they bring richness to the video that will take you back when you watch it later.  Shoot them as you see them, and don't worry how they connect.  You'll be surprised how well they work.
5.  Don't try to hide the camera: Kids (and many adults) may be camera-shy, but they'll be much worse if they think you're trying to trick them into being filmed.  Be obvious about shooting and they'll get bored with you and start acting natural.
Finally, don't forget to put the camera down occasionally!  Sometimes actually being present at a family event is more important than documenting for the future.
Do you have Holiday Gifts for everyone yet? How about giving the book that benefits the giver as much as the givee? Say good-bye to having to watch awful video by giving your favorite video shooters the world's best-selling how-to video book: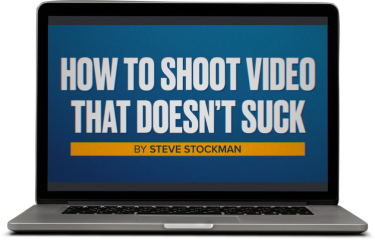 Get a free preview of the new video course!
Sample two lessons from our new video course free right now. No signup or credit card required!