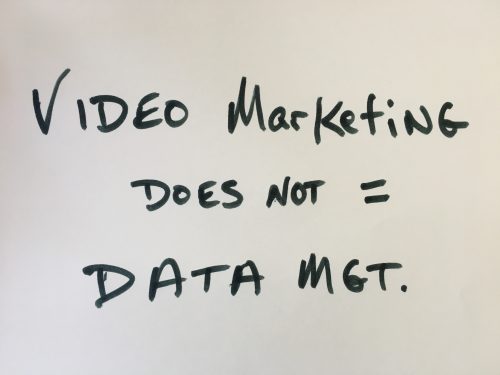 Google "video marketing" and you'll get—as of this writing—2.63 BILLION hits. That's way more than Kim Kardashian (266 million), weed (382 million), Donald Trump (1.4 billion) and, surprisingly, porn (also 1.4 billion).
Books, articles and videos (and more videos) offer you "21 Video Marketing Tools" or "5 Super Secrets" or "8 super-successful tips" every video marketer should know, all of which revolve around data manipulation: jacking your view count, tracking prospects, a/b headline testing, the latest changes to the YouTube algorithm, and reams and reams on Search Engine Optimization schemes.
Scrolling through this mass of information, you could be forgiven for thinking that all you need to know about video marketing is how to force people to click on a video by whatever means necessary—buying views, SEO, banner ads, influencers, social media, click-bait headlines and more.
But something's missing from this data-centric rush to get people to see your video. Our emphasis on getting clicks skips past a much more important question: What, exactly, are you asking people to watch?
80% of Americans carry tiny computers in their pockets, and they stare at them an average of 4 hours a day. Nobody watches bad video- ever- because they don't have to. Fingers poised above the screens, smartphone users can instantly watch almost any piece of film or video ever created. People have become experts at judging, in seconds, what's worth their attention.
You know this is true, because "people" is you. That's your finger hovering over the screen of your phone, deciding if a video lives or dies. You're the one clicking "skip this ad" ahead of your YouTube unboxing video, or wondering just how long this boring testimonial video about a real estate lawyer is and whether maybe instead you should watch the next episode of Stranger Things. Or this new song. Or comedy special. Or cat video.
You're the one who takes about 3 seconds to decide if the video playing on your screen is attention-worthy. Because in today's infinite entertainment universe, there's always something better on.
Your video marketing content is constantly being evaluated by its audience. And it's not being compared to content from your fellow lawyers, software companies or real estate agents. It's being compared to stuff from Disney, NBC/Universal, Netflix, Amazon, CBS, AT&T, Fox, Discovery- and every other on and off-air network ever created. Like it or not, that's who you compete with for attention.
If you're starting your video marketing strategy meetings with SEO and data points, you're doing it wrong. No matter how you trick your customers into clicking on your video, if they don't love it they're not going to watch it.
To get attention, you need to pay attention—to the entertainment and information needs of your audience. This is creative work, not data crunching. Start with your existing customers and on-line visitors. Work to translate into video what your brand means to them, and then give your customers something of value to watch (Hint: if you love it, you're on the right track. And vice versa.)
There's a right time to use data, SEO and influencers.  It's last– after you figure out how to say something valuable to your customers. Great video marketing always starts with content.