I was once taught that B-roll is best cut in 3's, but in this piece I couldn't get that to work with the pacing on the dialogue. Does the edit feel forced in this piece?

What other "rules or tips" of editing would help me?

–Brian Wilcox
I don't believe in "b-roll."   As a concept, I mean.  "B-roll" is the term commonly applied to that extra stuff we shoot (when there's time) that we use to patch holes in our edit later.   My problem:  the name "b-roll" implies "not 'A' material." It's an afterthought.
In a truly great video, there are no afterthoughts.  Every single shot has focus, action and story.  You won't find any "b-roll" in Gravity or Captain Phillips, for example. But you'll find a ton of it randomly applied to bad reality TV.  Even if you're not making Gravity (see it, btw), if your shot is filler, find a way to cut it.
As for the "rule" about using b-roll in 3's– that's a new one for me. I'm not a huge fan of rules in general, but I'm really unclear on how this particular rule could be assumed to help tell story or evoke emotion in all videos. Every video is different. I'd continue to trust your instincts and feel for each piece.
Rules aside, here are 5 tips that might improve the editing of this video:
1) Spend as much time planning "b-roll" as you do "a-roll.  What kinds of extra shooting will help your video?  Closeups of hands drumming on the table? Wildlife footage? Slow motion? Something impressionistic? Give yourself time to plan– and to shoot.  Don't let yourself run out of time to get great shots.
2)  Insist on action in all shots- even "b-roll". All strong shots have a hero, a beginning, middle and end. Cut the ones that don't.  And oh yeah…can they tell a story too?
3)  Every shot should have a purpose. How does each shot illustrate the speaker's point? An image can amplify or conflict with the narrative. It can clarify, make jokes, show action or an emotional response. If a shot isn't working for the story, cut it.
4) Editing starts with the script. I got lost more than once in your narrator's words. Can you simplify what he really means by branding? Think about your videos as poetry– even haiku. Fewer words can carry more impact if they're better crafted, more evocative and surrounded by great images.
5) Edit ruthlessly. The opening 15 seconds is a montage of stunning b-roll images that tell us absolutely nothing. Your speaker could have been talking from frame one (maybe over some of the images) and we could have seen him much sooner. Every frame needs to convey information.
Great looking piece, Brian.  Nice work. If you re-edit, send it along and we'll add it to the post!
Do you follow me on Twitter? Perhaps you should.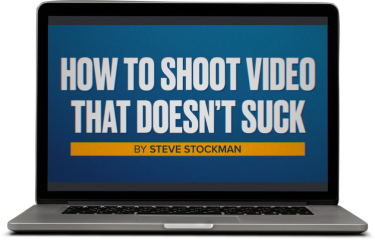 Get a free preview of the new video course!
Sample two lessons from our new video course free right now. No signup or credit card required!