I am an aspiring film director from the UK. I have always been passionate about storytelling, and was part of countless productions in school. Although I decided that performance wasn't for me, two years ago I began to develop an interest in filmmaking. There is no better feeling than when you come away from a film with an emotion, feeling or thought playing on your mind. I read your book over summer and it has given me so many new perspectives on filmmaking and creativity as a whole.

Next year I go to University and I am currently deciding on a major for my degree. I'm torn between going with a film major — film and literature, and a film production degree– or perhaps a degree in something else entirely. Do you have any recommendations?

–Tom
In the grand tradition of adults giving advice to young people, Tom, let me answer your question with a platitude: "Aspiration is nothing compared to Inspiration."  I made that one up, but feel free to print it on a tee shirt, or save it for when you have kids. Kids love platitudes.  Oh, they don't?  Fine, I'll try to explain with less pomposity:
Aspiration might lead you to a film major at a prestigious film school, with an academically rigorous program. Which is awesome, as who wouldn't want to study the greats, guided by inspirational professors?  There is no questioning the benefit of an intellectual understanding of the mechanics of filmmaking.
But there's another important part of your film and video education:  Film is a portfolio business.  You'll be hired by others based what you make and who you've worked with. If you do good work with good people, other good people will hire you for more good work. A little circular, perhaps, but all it means is that you have to do actual film work to succeed.  Whether it's making your own stuff on an iPhone or interning for a big production company, building a portfolio of work means you're learning by doing and growing your film career.
Which means you need to focus on Inspiration.  How well does the program inspire you and help you make stuff? Does the curriculum encourage student production? Are the professors strong in experiential learning, helping students grow by doing? Encouraging them to meet each other?  Are there clubs and groups you can join to network with other students and do extra work on your own?  Is there an active film community in the college area, so you can intern or do freelance work? Does the college help find placement?  Do they have equipment and people who know how to use it?
Its great to have both kinds of programs, but if you have to choose, choose the one that inspires you to do the work. What you study in college– film major or not– isn't nearly as important to your filmmaking career as what opportunities you'll take advantage of when you're there.
More on careers in film here and here!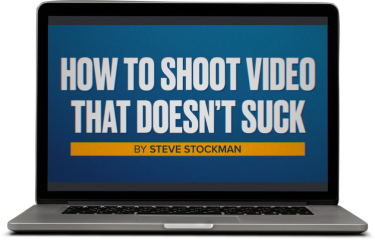 Get a free preview of the new video course!
Enter your email and be the first to get a free lesson of our new video course for How To Shoot Video That Doesn't Suck