I wanted to be in Entertainment, but somehow, in the last several years, I wound up working in Financial Services.

Determined to get back on the right path while at my last horrible job–working for a banking corporation–I decided to update my skills by buying new equipment and software. I also have been taking opportunities in my chosen industry. I've been an actor in a feature film and currently am a Production Assistant.

Do you have any suggestions about what more I can do to make this career change from the utterly uncreative world of financial services to the place I've always wanted to be?

–John Thiel
It took me a while to get to this question, John. Hopefully you are not yet head of a studio.  But if not, have no fear!  Because I have exactly the answers you're looking for.  Here– at long last– are the three ultimate secrets to a Career in Entertainment.
The secrets are basic, simple, and if followed, will always lead to success.  But like "diet and exercise" to lose weight, they take a lot of focus and hard work.  As you know, people will do anything to get out of focus and hard work– which is why there are so many books written about how to eat bacon to get thin and meditate on "The Secret" to get careers in entertainment.
Ready to save hundreds of dollars on books?  Here you go:
1) Commit
2) Do the work
3) Build a network
Easy, right?  Or at least, straightforward.  Now to the difficult details:
1)  Commit: Consider this:  The entertainment industry will be worth over $2 TRILLION dollars by 2016.  It's a real industry, with hundreds of thousands of jobs worldwide.  Somebody has to do it– why not you?  But it can be tough sledding sometimes. If you want a career in entertainment, you have to believe, deep down, that you can do it no matter what.  Because if you think you need an accounting degree as a fallback to becoming a director, you will end up an accountant.
2) Do the work:  Entertainment is a portfolio business.  This means you will be judged by what you have made.  So make things.  Shoot films and post them on Vimeo.  Join others who are shooting film to learn on set and accrue credits– for free if you must. Write that short or long film burning in your brain and hustle it into existence.  Take a job as a production assistant and learn the craft.
3)  Build a network:  As you do the work, notice the people who enjoy working with you, and with whom you enjoy working.  The people who get you.  The people with whom you do your best work.  Get to know them.  Try to work with them more.  Stay in touch with them.  This is how you build your personal network. As you get better, they get better. As you inspire them, they inspire you.  You grow together.
Note that this is not the same as "networking," which people seem to believe involves industry cocktail parties wherein you spot and suck up to successful people and through some magic cause them to do business with you.  It is not the same in that my kind of "building a network" actually works.
From your description, John, you've made great progress on starting to do the work.  Make sure you're committed and building a network.  You have to do all three to win a career in entertainment.
If you have a question you're willing to share with the world, please ask it here.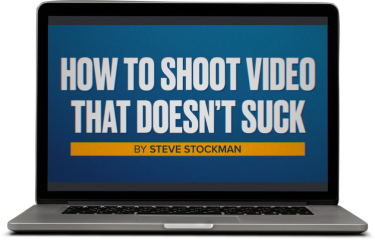 Get a free preview of the new video course!
Enter your email and be the first to get a free lesson of our new video course for How To Shoot Video That Doesn't Suck