Recently I was asked to shoot the piano recital of my friend's seven-year-old. Her total performance time (including walking on stage, playing, and bowing and exiting) was just about 2 minutes.

I get your advice about short shots, but how can you tell parents that you're only going to give them 10-second clips of their daughter's performance? Is this a case where you have to bend the rules … what good is capturing a musical performance if you don't get the entire song? Unfortunately I only had one camera (and one me) so I couldn't get multiple shots from different angles to edit together later.

–Deb
In art, there are no rules. "Shoot short shots" is absolutely a skill you should understand and master. But that's so you can use it whenever you want to, not because you have to do it 100% of the time.
And because there are no rules, you do not have to choose between making a nice looking video and keeping your parentally-focused friends happy.
Yes, Deb, you can have your arty cake and eat it too.  Doing that requires some editing after you shoot, but the result should be pretty watchable (on the plus side if it's not: you won't have to go to more piano recitals.)
Let's start by re-imagining the piano recital video.  Instead of shooting a tripod-bound, boring record of the musical performance, let's open up the story and create an interesting video.  Here's how:
1)  Shoot before, during and after the recital.  Interview the pianist, her parents, her teacher.  Show her arriving.  Show her being nervous.  Catch the applause after, and the triumphant artist eating cookies with her friends.
2)  Shoot the performance with the camera running continuously.   But don't lock the camera in one place.  Instead, look for great shots as you normally would– and DON'T cut the camera in between.  Start rolling just as your little friend is about to walk on stage.  Find a great shot, hold for a bit, find another shot and move there.  Don't worry about seeing the moves– we're going to edit around them later.  Make your shots great– get close, change angles. Just don't stop the camera in between.
You now have (1) a bunch of before and after shots, and (2) a complete record of the performance with great shots and some sloppy camera moves in between. Load everything into your editing program and:
3)  Start with the performance video.  You'll use the continuous performance soundtrack throughout your video, along with most of the performance shots.  Cut the sloppy camera moves and replace them with nice shots you did before and after the show (You won't use their audio because we're listening to the recital sound instead, remember?)
4)  Add your best interview footage to the head and tail of your video.
The result?  A nicely assembled video that captures all of the recital performance with enough story told in cutaway shots to keep the whole thing interesting.  Rules ignored, art and friendship preserved.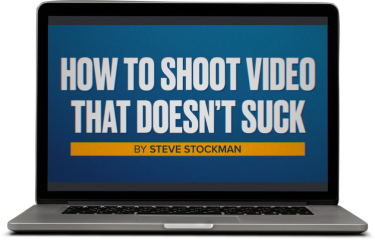 Get a free preview of the new video course!
Sample two lessons from our new video course free right now. No signup or credit card required!