From How To Shoot Video that Doesn't Suck, Page 140
Imagine this video:  At a retail in-store appearance in Hollywood, the costumed movie superhero steps out of the limo and walks through the store.
Shot from adult height, we see the character shake hands with the store manager and the tops of heads of children as we pass by. But if we kneel down to child level, suddenly we're in another world. We see kids' faces light up as this cartoon-come-to-life walks past, their anguish as they decide whether to approach, and their joy when they finally get a hug from their favorite star.
Changing the filming angle has completely changed the meaning of the video—as it often does. But most people shoot everything straight on at about chest level—right where it's easy to hold the camera.  Get used to playing with angles in your video, and everything will start to look more interesting.
Want to practice? Set a timer for 5 or 6 minutes and see if you can shoot 50 different static shots of one thing—no zooming or moving in the shot. Shoot 3 seconds.  Cut.  Move.  Shoot 3 seconds.  Cut.  Speed is important.  You don't want to think too much or judge the results– it's all about practice. Make your moves BIG.  Don't just step a little to the right, go behind your subject. Don't lower the camera a little. Lie on the floor!
In this video, I shot 6 minutes while my daughter did homework for her art history class.  I used a Kodak pocket camera, which means no zoom lens.  Not all the shots are brilliant (and a couple aren't in focus– I kept them in the non-judgmental spirit of the exercise) but they're all less boring than another straight-on, eye-level shot.
Thanks to Chris Arena for the great song.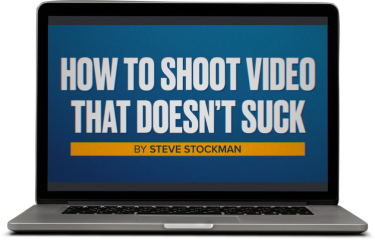 Get a free preview of the new video course!
Enter your email and be the first to get a free lesson of our new video course for How To Shoot Video That Doesn't Suck