I just finished my first screenplay, and I know it is really good. I just need a chance to get in front of someone to prove it. I've tried to contact agencies, but got no response. I don't want to give up my dream of being a Hollywood screenwriter!

Any advice?

–Jim S., New York
The stock answers to the career screenwriter question tend to be variations on "you have to pay your dues" or "you have to know someone." I'm not a fan of either piece of advice, so let's start by reframing those two old bromides into solid career advice:
Instead of "paying your dues," which implies years of suffering and sucking up, master the craft of screenwriting by building a strong portfolio.
New writers fall in love with their first finished script. Don't, because unless you are the genius of the century, it's not very good. And if you ARE the genius of the century, your next screenplay will be even better. Start another one. Screenwriting is like writing poetry– it needs to be elegant, expressive and written in a particular (and very odd) style. Your learning curve is HUGE. Plan on finishing 5 or 6 scripts before you start looking for work.
Even when you have one great script, you'll want a couple more in your back pocket for when the agent or producer asks the inevitable question "What else have you got?" The correct answer to that question? Your next best script.
To get all that writing done and to learn how to be a better screenwriter, consider taking a class or two or six. I'm a fan of UCLA Extension, but there are other schools with good screenwriting teachers, and everything is on line these days. In class you'll meet peers at your level. Trade scripts with them. Stay in touch. Share experiences. Learn and grow together.
Stop worrying about who you know, and instead learn how the business side of show business actually works. That is, what do real people, who make real movies and TV, look for in addition to writing talent?
First, they look for people who actually know what good writing looks like, in themselves and in others. For whatever reason, screenwriting seems easy to people. Nobody would show up at the New England Patriots front office and say "I caught a bunch of passes in an intramural game yesterday. I'm ready to play offense." Yet the ratio of script inquiries established companies get is something like 97.5% wannabe to 2.5% actual talent. Naturally, Hollywood's defenses are built up high.
In real life, you show up at the NFL in perfect shape. With your game films from a whole bunch of college games. With a coach that knows your work. Then you STILL have to prove yourself. When you talk to the offensive coach about football, you'd better know how the game works, on and off the field. You have to know what they're looking for, and then give it to them.  Entertainment is exactly the same.
The answer to getting through the system is become a great screenwriter, then learn enough about the business so you know what the professional expectations are. So you know what "great" really looks like. Learn by listening  to screenwriters John August and Craig Mazin on August's podcast "Scriptnotes",  a great source of both business and creative advice.  Read the trades (Deadline.com, Variety.com, etc.) Read screenplays (free all over the net) and books about screenwriting.
That way when you take your 5 great scripts to an agency or management company, you'll know enough about their business to have an intelligent conversation about yours.
Hollywood is desperate for great talent and great stories– that's why big-time screenwriters get paid a fortune. At the same time, we are desperate to defend ourselves from people who think they have "something big" but have not done the work to prove it. Everyone wants to work with professionals who know their stuff and can reliably tell a great story.
If you're that person, you will definitely have a career as a Hollywood Screenwriter.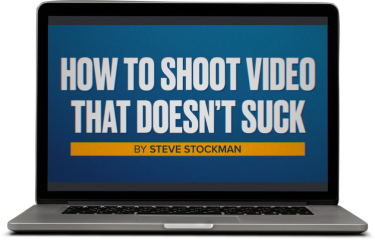 Get a free preview of the new video course!
Enter your email and be the first to get a free lesson of our new video course for How To Shoot Video That Doesn't Suck