Read 10 Tips for Video Interviews, Part I
Video interviews are a staple of business video, but there's nothing duller than stilted answers to predictable questions from someone very unhappy to be on camera.
Since boring videos get turned off with a click of the mouse in about 10 seconds, you need exciting, interesting, intriguing video.  Here are second 5 of my 10 tips:
This video I directed for InHealth and Perfect Sense Digital was shot with real people, and absolutely no fed lines.
6)  Relax Yourself: Let your interviewee set the pace.  Slow talkers shut right up if you pepper them with too many questions. Human chipmunks will be bored if you don't keep up the pace.  Take a few deep breaths and go with the subject's flow.
7) Make it a real conversation: In a normal conversation, you respond to what the other person says. A good interview works exactly the same way. Listen well and allow your natural curiosity to guide your questions even if it leads you to something you weren't planning on asking.
8) Look them in the eye: You need to develop a conversational trust with your interviewee. One great way to do it is by making strong eye contact. Have the subject look at you, not the camera, so you can talk.
9)  Sound: Record with lavelier mics or booms. Always. Unless you're a foot from your subject, don't rely on your camera's crappy microphone. Any sense of intimacy will be destroyed by distance and echo in the voice track.
10)  Location, Location, Location: The same interview with a hedge-fund manager communicates different information if it's in his marble and polished wood office vs. the floor of a working factory. An interview against the wrong background is an accidental mis-communication.
This post is adapted from a guest post I did recently for ReelSEO.com.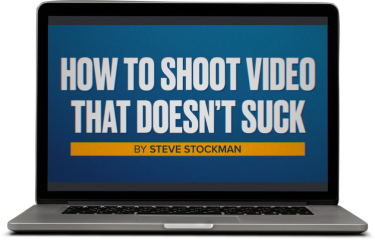 Get a free preview of the new video course!
Sample two lessons from our new video course free right now. No signup or credit card required!