In days of yore, one needed to be able to draw storyboards to get a good idea what a video would look like before shooting it.
Luckily, it's way past yore.  Now you can whip out a digital camera (in this case the same dslr and lens package we were about to shoot with) line up your shots with a stand-in and put the results together on a storyboard/schedule to see what they'll look like cut together. Even though there's no lighting yet and we aren't using the real actors, this is a great way to communicate your intent to the rest of your team.
These photo storyboards are from a web series shoot at Anchor Brewing Company (home of Anchor Steam beer.)  We brainstormed about 20 interview locations, took pictures at each, then selected the best 6. Then we assembled the shots in a simple page layout program and handed the storyboards around for planning and discussion.
Even if your shoot doesn't involve others, a little quick storyboard planning will make your next wedding video, soccer video or barbecue video look even better.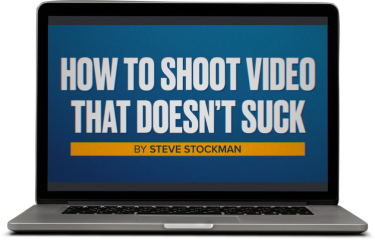 Get a free preview of the new video course!
Enter your email and be the first to get a free lesson of our new video course for How To Shoot Video That Doesn't Suck