So, @SteveStockman I'm ready for a critique of one of my videos. I'm interested in ideas for improvement.

–Paul (Mr. Adventure) @bcoutdoor via twitter
Pretty video, Paul, and I can't tell you how much I love being inside on a nice day writing about it instead of breathing fresh air and paddling across a lake.  Okay, not that much.
The entire basis for my critique of this video can be found in the description you posted on YouTube.  It's very accurate, and as goes the description, so goes your video:
Two weeks ago we spent the weekend hiking and packrafting around Ross Lake and spending the nights in hammocks. It was a first time for the packrafts and the hammocks (on a backpacking trip) and it was a memorable experience.
What's this video about?  Seems it could be about three different things:
–The Story of a Memorable Ross Lake Trip
–The Story of our first time spending the night in our new hammocks
–The Story of our first time using our new pack rafts on a backpacking trip
Your video touches on all these things without really quite constructing a story about any of them.  Consider that a video about three different things is, as a general rule, about two things too many.
One way to improve your video is to select one subject of the three and focus on it by "lensing in" to what you're shooting.  Imagine you're a zoom lens.  As you zoom closer and closer to your topic, details are revealed, and these details prompt questions.  Lensing in to the detail on one of these questions as part of your video, showing us the quest for answers and then revealing those answers gives us instant story.
For example, if it's about "the memorable Ross Lake Trip" ask yourself why it was memorable.  You seem like a couple of nice guys going on a nice trip nicely.  Not memorable.  Now let's zoom in to something you gloss over right at the start:  Your trip starts late in the day.  Now ask the questions:  Why?   Was it tough to get there from work?  Did you almost not make it?  Did you have lights or night-vision equipment at the ready?  Let's see you setting up camp at night  What are some rules for doing that?  What are the hazards?  Did you have to eat razor clam and bacon chowder for breakfast (and, may I say, YUCK)  because in your hurry you forgot your granola?
That's the first thing I felt like you kind of glossed over in your video.  But if that's not the detail for you, pick another.
If you decide the most interesting thing to explore is one of your new toys, "lens in" to the product.  How heavy are those boats?  Why did you bring them?  Can we see you pack them?  How unsteady are they?  Were you worried?  What if you try to tip one over?  What do they cost?  How much equipment could they carry?  What if they leak?
Lensing in–  zooming to intensely question one topic– exposes  more specific areas of interest and challenge.  Which are the building blocks of a much more interesting story.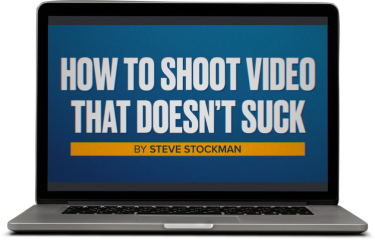 Get a free preview of the new video course!
Enter your email and be the first to get a free lesson of our new video course for How To Shoot Video That Doesn't Suck