Hi Steve,

I've read your book and improved a lot after reading it – thank you!

Now I have a fancy new DSLR, and want to take my home movies to the next level. Do you know anything about some of the courses that are out there, such as dvworkshops.com, or nyvs.com? I'm thinking they might be  good resource to help me work on polishing my camerawork and editing.

—Lilia
I have an extreme bias toward experiential learning in video.  Theory is nice, but practice is what makes you better– practice in both the physical job of shooting and practice critiquing your own work and the work of others.  Video classes where a great instructor leads you in exercises, then leads class critiques of student work can be really useful.
Be careful though that it's a great group and great instructor.  Seek recommendations, read reviews carefully.  And if, at the end of the first class, you dislike the instructor or atmosphere– get out.  Video is about creativity, and nobody's creativity flourishes in an environment that makes them uncomfortable.
I learned a lot about screenwriting from these types of experientially-driven workshops, and I teach people video that way myself– which is why the book is full of exercises.  But to be honest, I don't know a lot about other classes or courses.
If you don't need a formal class, I recommend looking through the great videos available free at Vimeo Video School.
For those who want more structure– Does anyone have a fave school/teacher/course you'd like to share?  Leave a comment below.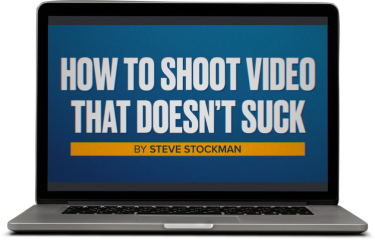 Get a free preview of the new video course!
Sample two lessons from our new video course free right now. No signup or credit card required!