I just shot my first video ever, and had some trouble getting the actors to do what I wanted.

When you're directing, how much of the performance is up to you, and how much do you let the actor come up with?

-Nick
How much do I let the actor come up with?  All of it.  As much as I'd sometimes (fortunately rarely) like to climb inside an actor's head and push all the buttons myself, I can't.  Nobody can.  The actor has to do all the work.  I may try to help guide or manage, but you really can't make actors do things they can't– or don't want to.
Usually directors who find it necessary to read every line, personally demonstrate every move and walk through the blocking get a lot less out of their actors than they'd like. After about 10 minutes of this, any decent actor is going to mentally retreat and phone in the rest of her performance.
But if you hire great talent, give them a clear picture of what you intend to happen and some space to contribute their own ideas, they'll jump in and make it work.  The more space you give them, the more they throw themselves into the job.
Since nobody likes to be micro-managed, the "give people space" thing turns out to be true for everyone on the set, not just actors.  Which is good, because video is a collaborative art– you can't do it by yourself.
Not only will you get great work when you invite great people to do their jobs creatively, you get surprising work– performances better than you expect, miraculous looking footage and terrific ideas from even the lowliest production assistant.  Great performances– from everyone– are what make great film.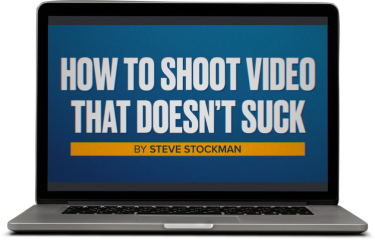 Get a free preview of the new video course!
Enter your email and be the first to get a free lesson of our new video course for How To Shoot Video That Doesn't Suck