Have you had this experience?
You grudgingly agree to watch a friend's video. You click on the link. The first few shots are good. Cute kids. But about 10 seconds in you start to get a sinking feeling. This video isn't about anything. It's a bunch of shots that aren't leading anywhere. And you're stuck having to watch enough of it to lie to your friend about how much you loved it.
You are watching a video without a story. Your friend took out a camera or phone, pointed without thinking, and shot for a while, also without thinking. The result is a series of unrelated images that become more boring the longer they continue. Your brain is trying its best to make sense of the images cascading before your eyes, but failing. That failure induces boredom, distraction and tension.
This happens in pro video too- it's the difference between a satisfying ending (and a rush to be the first to share with friends) and something that's cute but just peters out.
If you know story, your videos will be better– whether they're birthday parties for the kids or short films with actors. But talking about "Story" scares people.  Screenwriting books are filled with stuff like "three act structure," "inciting incidents," "act 2 turns" and "petting the dog." Here's a secret: it's all jargon you don't need to know.  Story is simple.
The real secret to story is right here– 12 pages of it.  Jargon-free, with exercises you can try right away.  No registration required, so feel free to share the link with your story-challenged friend.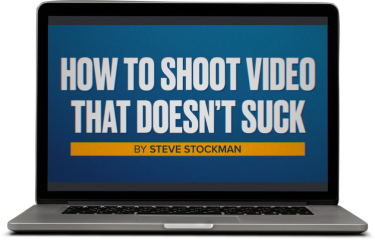 Get a free preview of the new video course!
Enter your email and be the first to get a free lesson of our new video course for How To Shoot Video That Doesn't Suck