***UPDATE 2/15:  If you're in the neighborhood and want to come out, RSVP by email: info (at) stevestockman.com and we'll see if we can squeeze you in.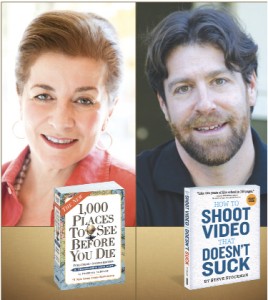 Travel and Beer
I'll be appearing with Patricia Schultz, author of 1000 Places to See Before You Die in a cool we-just-made-this-up "Video and Travel" talk and book signing February 17.  Better still, we're going to be at Anchor Brewing Company in San Francisco, the home of Anchor Steam Beer.
There'll be post-talk complimentary tastings and tours of the Anchor Brewery too.  Anchor tours are a tough ticket in their own right– if you like beer, travel or video, be there and bring a video camera!
For a ticket to this private event including discussion, tour and tastings– head to one of the Book Passage Bookstore locations in San Francisco.  You must, of course, be 21 or over.
Great Non-Profit Video Tips but No Beer
*UPDATE: NTEN emailed me a discount code that cuts the webinar price in half for non-members:  enter WEB-3GS5

I'll be joining my friend Andy Goodman for a live Webinar on Why Bad Video Happens to Good Causes on Valentine's Day, Tuesday February 14 at 1pm EST, 11am PST on the NTEN network.
What better way to say "I love you" than sharing 10 tips non-profits MUST know to succeed in video?  I'm tearing up just thinking about it.
The good news:  no need to travel.  Just go to the NTEN.org site and register, and the webinar will come to you in the privacy of your own office.  The bad news:  you will need to bring your own Anchor Steam.